Two German soldiers were exhumed in one of the districts of Szczecin
2010-04-24
An exhumation was made on the former evangelical cemetery. We were able to locate the remains of two soldiers, including an artillery leutnant.
Presentation of exhibit to the Warsaw Rising Museum
2010-04-14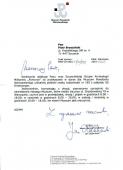 On 16th March 2010 during our visit to Warsaw we presented to the museum a half of recognition mark ("dog-tag") of a soldier from SS-Brigade "Dirlewanger".
We have recapitulated the year 2009
2010-04-07
We have recapitulated the last year (2009) of our work adding the names of the sodiers who were found by chance during various construction works or in other circumstances.
An action report in the community Radowo Małe has been added
2010-03-25
After receiving data from German archives an action report for the community of Radowo Małe has been inserted.
Military assignment of some soldiers has been verified
2010-03-15
Basing on data received from Central Military Archive we were able to establish that the soldiers belonging formerly to veterinary units in Walcz/Deutsch Krone (such subordination was given by German archives in case of two identified soldiers found on 10th October 2009) were just before the fighting incorporated into batallion "von Hagen" belonging to combined regiment "Deutsch Krone".